Patience Ozokwo Advocates For Indigenous Movies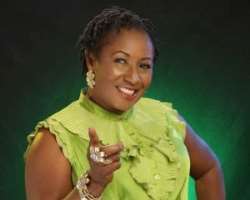 Recently, Nollywood actress, Patience Ozokwo was in Kumasi, Ghana, to shoot a collaborative film between Ghana and Nigeria titled 'Mama Africa'. While in the country, she called on African filmmakers to embrace indigenous language in their movie production.
Speaking during a press conference, the actress stated that, "I am glad things are changing in Africa, where Ghana is taking steps to use and trade with its local language through movies. Bollywood is second when it comes to movie making in the world. They use their local language to shoot, which tells you that it's not bad for an industry to use local language to shoot movies.
"When one makes mistakes in English, the whole country laughs at the person, but we forget it's not our language, but rather it's the white man who forced us to learn it; so if Africa needs to grow, one of the things we can grow with is our language."
Click the link below to go to...
IFEANYI DIKE TURNS CONTRACTOR FOR INDIAN HOSPITALS
Davido, Dr Frabz, Shank In Fierce Public Fight Over Money
[VIDEO] Nigerian Bimbo Olumuyiwa Oyewole NJ airport***Security supervisor used dead man's ID
World Record Breaker: Bola Adebisi Caught In US Airport With Swallowed 100 Pellets Of Heroin!!!