I Work To Cater For My Daughter Even Though I'm Not Married—IK Ogbonna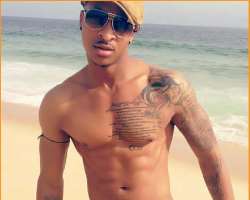 You may be familiar with the fair-skinned young man and model who once signed a multimillion naira deal with Rakkaan Perfume Limited in Dubai for their new fragrance and who is also an actor.
Well, there are things you may not know about him; as the sexy looking dude disclosed to our correspondent some things about himself. Enjoy

Tell us about yourself
My name is Ikechukwu Mitchel Ogbonna; my professional name is IK Ogbonna. I hail from Abia State but grew up in Jos, Plateau State. I had my primary, secondary and university education was in Jos. I am a graduate of Sociology and Anthropology from University of Jos. I am from a family of four and I'm the second child. I'm a very ambitious guy and a very religious person at the same time.
Your journey into the movie industry?
I started acting professionally last year (2013) with inspiration from Rukky Sandra and Elvis Chuks
About the Amstel talent show what experience did you get from there?
Yes I was coached by a very good actor, someone that I really admire his work and he is RMD. I was coached by him in acting so I gained a lot of experience there. I was also coached on how to work with the camera
What did you perform at the Amstel talent Show?
The outlet was centred on movie, trying to find the next big actor in Nigeria that was their sole aim of the contest and it was won by Azeezat
Who are your role models in the movie industry?
I admire Johnny Dipp, then coming to Africa, I admire Majid Micheal's acting and also RMD's acting a lot too.
Like how many stars have you worked with so far?
I've worked with a lot of people like Funke Akindele, Ini Edo, Tonto Dike John Dumelo and many of them and its being new in the industry it helps because they can bring out a lot out of you.
How do you interpret your script before acting?
When I am given a script, before taking time to read the whole story, I try to understand what is expected of me as a character and before I am done reading a script, I usually see myself playing the character already. So, the next thing at that moment is just to add life to it and it makes work easier for me. So for me, interpreting a script is not really difficult.
What really make you to go into acting instead of other things like singing?
There was a hidden treasure I needed to discover and when I discovered it, I delved into it. The hidden passion is the fact that I actually love acting but I was just too scared of going into it and the truth of the matter is that there are some things in you that you just needed someone to just push you to discover those things and realise those dreams. And when you realise those dreams, it becomes part of you and the love you have for it can only grow from there.
What do you think makes you different from other actors and actresses?
There is a different between the character you play and the true person you are because you can't be doing a character in a movie and still be leaving the same life of that character you played. So, there should be a different between the character you play in a movie and your true personality. I believe that an actor should be a role model. When people look at you, they try to emulate one or two things about you and it's tasking because you need to mind the kind of things you say and the way you behave. And talking about what makes me different from other stars, it is my name. I can't be like other people and I think my fans should be the one to say what they think makes me different from other star.
Challenges before you got to this level?
My most challenges are getting to the target level I wished myself to get to because generally, as a man you, you really want to stand on your own but you discovered that to make it in life, it is not easy, but above all, one needs to still work hard and I thank God for where I am today. Though I almost gave up, but thank God I didn't and things are going on well for me today. There are still a lot of things going on behind the scene that one cannot unveil but still I thank Him.
Aside acting, what else do you do?
I am into modelling and I am also into business. I do oil and gas.
So how do you manage all that?
It's not difficult once you have your life planned. I also have people working with me. So, it makes work easy for me.
Is there any difference between acting and modelling?
It's almost the same thing just that as a model, it's something of yourself and the brand that is trying to advertise a particular designer of a brand and that doesn't mean I don't have passion for both of them. It is just that I am more focused on one more than the other, which is acting. Though am still into modelling. In modelling, I am not putting my whole energy into, it but in acting, I make sure that I put more energy into it because there's a particular stage I wish to take my acting career to.
How did you get to work with those popular stars as an upcoming actor?
That's why I said it's God's grace because I have never hustled for a movie role in my life. They call me to come and play either a lead role or sub-lead role. I think it's been the grace of God.
Any award in the course of your profession?
My first award in life came from fine Art from Milo. Then I was still in secondary school. In modelling, I have also won an award (in 2013).
What happened to the fine art skill?
The fine art skill is not dead, it's still alive because movie is an art, so also modelling, but professionally, after school, I dropped it because I noticed that artistes are not been appreciated here in Nigeria. Sometimes, when you are walking along the road, you see people's art works and within you, you will be wondering why the person is still there despite the good work he displays, but if you go outside the state, you see artistes who are millionaire. So, why I dropped art was because we've not gotten to that level yet. For example, before now, music was not appreciated in Nigeria, but now, Nigerian music has really grown big. But I know we will still get there and I also don't really see myself going into fine art professionally.
Can you dump acting for any reason?
I don't think because I have passion for acting. When you see yourself dropping something, it means you forced yourself into it. Though it's not easy, but the love and passion keeps you going and not the money or any other thing.
We once heard you have a daughter, can you tell us about it?
I'm not married yet but I have a daughter, her name is Makila and she's a year old.
I try my best to provide for her. So, obviously, my work has to pay the bills. I try as often as possible to see her when I'm less busy. There's this love between a father and his daughter that cannot be broken. With every little space I have I make sure I spend it with her.
I feed her, when she cries. I comfort her, I change her diapers. When she's in a good mood to play, I put cartoons for her to watch and then she starts dancing around the place. She plays with her toys and then tries as much as possible to destroy everything. It's a beautiful thing watching her grow up.
So what about the mother because we didn't hear anything about you being married to somebody?
That's private for me I don't want to go into it, my concern is about me and my child. So, I won't talk about the next person.