ROAD ACCIDENTS A MAJOR CAUSE OF DEATH IN AFRICA.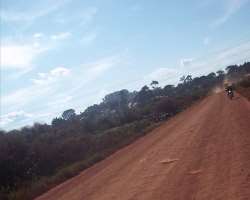 A ROAD TO CAPITAL CITY.Photo By:Abubakar Sematimba
By: Abubakar Sematimba
Not with standing its numerous problems and hardships which have crippled and slowed the development of Africa as a whole, road accidents remain a major cause of death on the mother continent.
With its improved road network and arguably the best on the continent and one of the best in the world, South Africa's death toll as a result of road accidents remains the highest on the continent followed by Nigeria.
Africa is faced with so many problems, like poor politics, which have claimed so many lives of innocent souls, diseases, corruption, greed and so many others. However, Road accidents can only be singled out as a major cause to this predicament.
South Africa for example has a good road network however, these first world roads claims a big portion of innocent people via accidents.
The economies of our African nations from cape to Cairo are ran on grants from the west, and other European nations and of late far east, Japan and China, however, that money does not reach where it is supposed to go.
Our leaders end up embezzling the grants and feeling no remorse at all, subsequently a sub standard infrastructure is either erected or not at all, channeling the funds to their other personal programs forgetting the tax payer.
I once visited Mr Ssekawungu a former associate editor of the state owned The New vision, he narrated to me how former president Idd Amin used to handle corrupt officials in the Government.
A minister could ask for money to accomplish a certain task, the money could be given to him without any hustle, and after a given time, the president could call the Minister to account for the money he gave out, if he fails to give 'sensible' accountability, according to Ssekawungu, that would be his end.
Today, tribalism, nepotism and others have partly contributed to the lagging behind of our beloved continent, It is rare for a president to arrest his son in law or friend or comrade who has embezzled government money, these criminals they deliberately misappropriate the people's hard earned money, because they are protected from 'above' who will catch him/her when there is a relationship with the person on top.
With all the natural resources that Africa has, majority of Africans have no access to good roads, and those roads that are present are not up to standard.
Some African leaders tend hoodwink the visitors who come to their countries, by beautifying the roads which links and connect to their capital cities, they will drive them only on those roads which are fairly done and connect from the Airport to the meeting place.
In this situation my fellow Africans have perfected the proverb that says that, 'a visitor back bites' but they tend to forget that these visitors have embassies in their countries and one of the tasks of these diplomats is to report back to their respective bosses back home.
Many of Africa's roads are without light and traffic Lights or Robots as they are referred to in some countries, the traffic officers have taken over the function these Robots, standing for hours day and night, and I wonder whether these innocent officers do get double pay.
In many countries of Africa, driving at night you have to make continuous prayers to reach your destination safely, because of the darkness, potholes and heavy traffic.
Many roads that connect to rural areas are poorly constructed; they don't have tarmac, and the worst is that the money collected from the taxes and grants from donor nations is swindled by corrupt leaders.
The notorious, dangerous roads are here in Africa, no government can claim to have worked out this problem, if it exist, it is one or a handful of them.
It should be noted that, many of Africa's roads have traffic jam, and the security is less or non-existent, and the worst of all, these dilapidated kind of roads are found in capital cities not in the villages.
High way Robbers do take advantage of Africa's poor road networks to steal, kill and take away lives of innocent people.
Ironically, the victims do pay taxes to the central governments, but you wonder why the maintenance is not up to standards or it does not exist at all.
To sum it up, Road accidents remains a major reason for many lost lives in Africa, and this is driven by a number of factors, the major ones being inexperienced drivers, who drive without under going required training courses, hence driving without licenses, corrupt leaders, stress, over speeding and personal judgment which is affected by Alcohol and remember drinking is a culture in many African set ups, like it is the same case in other continents.
Disclaimer:

"The views/contents expressed in this article are the sole responsibility of the author(s) and do not necessarily reflect those of The Nigerian Voice. The Nigerian Voice will not be responsible or liable for any inaccurate or incorrect statements contained in this article."
Articles by Abubakar Sematimba