OMONI OBOLI IS THE BEST ACTRESS IN NIGERIA – MOVIE DIRECTOR AND EDITOR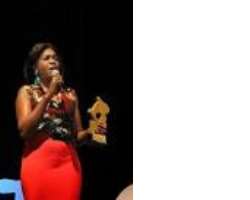 Actress Omoni Oboli has been declared the best actress in Nigeria ahead of fellow A-list actresses such as, Omotola Jalade Ekeinde, Ini- Edo, Genevieve Nnaji, Funke Akindele among others. Desmond Ovbiagele, The producer and director of the new movie 'Render to Caesar' and celebrated movie editor Steve Shodiya made this assertion in an interactive session with the press.
Steve, the brain behind the post-production of some of the best movies in Nigeria said that as a post-production expert, he gets to see a lot of things captured on camera, the good, the bad and the ugly, and can readily point to the actor or actress who brings 'life' to a production. According to him, sometimes he uses Omoni's scenes to clean up other actors' scenes. 'The producer and director, Desmond, wanted somebody that will not just be acting but an actor that will give real emotion. As far as I'm concerned, Omoni Oboli is the best for the roles she played in Render to Caesar, Anchor Baby and Figurine. No other actor could have played those roles the way she did. Most of them are stereotyped but she is versatile.'
Speaking further, he said, 'she did not only played the role, she gave the character more than we expected. From post-production views, we see mistakes, a lot of mistakes but we are paid to clean up the mistakes before the public see it. But with respect to Omoni, we hardly throw away any of her shots. In fact we use her scenes to clean other actors' scenes. To put all of this in a nutshell, I will say Omoni is the best'.
Desmond Ovbiagele lent credence to the statement by saying Omoni Oboli is the best among her peers and She's very professional on set. 'I was looking for a professional in terms of her approach to work; I have heard a lot of stories about actors and actresses acting up on set. After my research, I found out that she is very professional and is somebody who sticks through to the end'.
Omoni Oboli, in a few years has earned her place among the A-listers in Nollywood. She captured national, continental and International attention with her emotional-wrenching performances in Anchor Baby and Figurine. Her other movies include Entanglement, Bent Arrows, Fatal Imagination, Deep Inside, Brother's Keeper, Being Mrs Elliott, Dining With A Long Spoon, Feathered Dreams and many more.