I Didn't Want To Insult Weird MC—Upcoming Star, Brain Says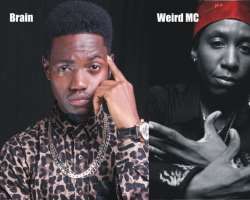 An up and coming artiste called 'Brain' has revealed that contrary to report that he dissed top Nigerian female rapper, Weird MC in his new song, he never intended to do such.
The hip-hop singer, who is signed on to Magikal Entertainment, disclosed that his controversial song 'Salute' was not to disrespect her but that issue was blown out of proportion.
According to him, he had great respect for Weird MC and look up to her because she is one of the top Femcee that put Africa on the hip-hop map.
'The song 'Salute' is a song I wrote to give props to top African hip-hop stars that made great efforts in making hip-hop music an acceptable genre in Africa, so there's no reason for me to have dissed Weird MC in the song. Though there are few jabs and witty punch-lines in the song, I celebrated the rap stars and didn't run anyone down in the song," Brain said.
"I don't need to 'diss' or run anyone down to get spotted. I'm a lover of clean and good music and I'm having a ball of my life doing what I know how to do best, which is rapping. And I thank God for all the recognition I'm getting with every record I've been dropping since my debut 'So Crazy', that's why I'm setting the record straight that no hard feelings for Weird MC or any other rap artiste out there", he added.