Adora's Estrange Lover Marvin, Marries White Woman (Pictures)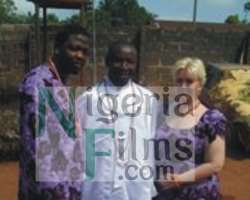 Nollywood Actress, Adora Ukoh, on a phone chat with Nollywoodgists.com, has attested to the claim that she was never married to Marvin. Adding that it was just a mature relationship and they went through the ills of relationship before parting ways.
'I and Marvin had something intimate, but we were never married. Despite our break-up, I don't have any ill feelings about him', she added.
Following recent reports around the blogosphere that the sultry actress's marriage just hit the rocks, Adora, as discredited ever being married to anybody, citing that she is still single.
Alleged husband of Nollywood actress Adora Ukoh, Marvin Okungbowa, has finally spit fire over the rumours that he was once married to the actress.
Nollywoodgists.com, had exclusively gathered that the alleged husband whose full name is Marvin Jude Okungbowa, a businessman who base abroad, is happily married to a foreigner and blessed with a baby girl Julia, who is three years old.
It was gathered that though Marvin as he is popularly called, once had an on and off relationship with Adora, but debunked the claim that they were ever married.
According to him, 'The whole stories are false, because I have been married for three years now,' accusing bloggers of passing wrong information.
'I have never been married before to anybody, neither Adora, this is just a mere gossip,' he added.
When asked if Adora had ever lived with him in his Surulere's aboard, Marvin disassociated the claim, stating that she has never lived with him or spent time with him in his home.
It would be recalled that reports went viral that Adora and Marvin were married, but later broke up.
So, gossipers, you've heard it all, let's allow each families be.