Trendy; Men Rocking Coloured Pants...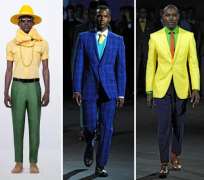 In the past year and before, coloured pants used to be the trends for ladies in Lagos and across the states of the federation, which was always worn with a contrary colour and it was named 'colour blocking' very funny name indeed, It used to be that the only pants one had in the closet were blue jeans, tan chinos,and proper trousers in navy and gray. But no That's no longer the case. Leaving the women aside, men are now rocking coloured pants like never before. They seem to be leaving behind the whole black jeans and blue jeans aside and they are rocking the new style of coloured pants. Whether long or the quarter, they just have to rock that style, which leaves ladies starring.....
Over the past few seasons, we've seen a push for colour, first in jeans, and now in a man's everyday chinos. At first the colours were, well, bright. Really bright. And that's fine for some, but certainly not everyone. Luckily, we've noticed a new breed of subdued options cropping up recently many in muted shades that make them much more appealing to guys who want to wear colour but don't want to dial up the wattage quite so high. Which means it's time for you try out some different shades, if you haven't already
>

Click the link below to go to...
Cloud of doubt over Uche Jombo's marital status
ANITA HOGAN SPEAKS ABOUT HER N*DE PICTURES SCANDAL
Female Banker Arraigned For Stealing N125 Million
AUDIO: Prelate Akinola's Corruption Sermon That Scared President Jonathan
BREAKING: MAU Students In Heavy Protest Of UNILAG Name Change
Unbelievable!! Jonathan Refuses To Say AMEN To Prayer Against Corrupt Leaders