Kcee visits Ronaldo at Madrid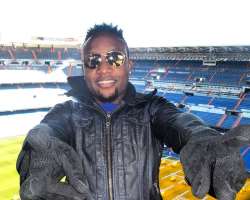 Nigeria music artist Kcee is presently in Madrid .
As the music hit-maker posted a photo of himself surveying madrid stadium on his Instagram .
But the question is , Is he planning to be a footballer ? , as Nigeriafilm.com could recall his comment when asked if music has always been his dream .
He said :
''Not really, I thought I was going to be a footballer, I remember when I was in AJ I used to play for Julius Berger, I also played for Puma. So I thought it was going to be football for me but I always had this belief that I was definitely going to be in the entertainment industry because it's my love, my heart, my everything. I needed to make sure I get my dreams; it was between music and football. At the end of the day, the God that always writes scripts has written mine, I was just acting in it; I thought I was going into football but I found myself doing music ''.