Benny Ark, Amaka Onyeagoro For Nigerian Broadcasters Nite In Abuja!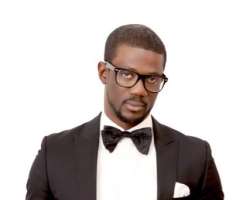 That the monthly Nigerian Broadcasters Nite (NBN) has become a national affair is like stating the obvious. Three successful editions in Lagos and one in Ibadan, Oyo State, confirmed the continuous growing of the monthly gig designed to further celebrate the achievements of Nigerian broadcast industry as well as its practitioners.
The Nigerian Broadcasters Nite (NBN) is designed to hold every last Saturday of the month when two of the winners of the yearly Nigerian Broadcasters Merit Awards (NBMA) get selected and are hosted at one of the biggest lounges/clubs in the state
However, the next stopover for NBN's moving train is now the Federal capital Territory, Abuja and Benny Ark and Amaka Onyeagoro a.k.a Amaka Ma Ra Nma, the two famous presenters in the central region of the federal republic of Nigeria, have emerged the first set of On-air Personalities to be hosted and celebrated at the Nigerian Broadcasters Nite in Abuja.
So, on Saturday March 22nd, all roads will lead to the prestigious and newly opened ,The Bank Lounge, Wuse 2, as Nigerian Broadcasters Nite storms Abuja for Benny Ark of Cool 96.9FM and Amaka Onyeagoro of Hot 98.3 FM.
You will, of course recall, that Benny was crowned NBMA's 'Sexiest On Air Personalities' and 'Most Popular Radio Presenter' in Nigeria in 2011and 2012 respectively, while Amaka floored her other colleagues in the northern region, to emerge NBMA's 'Most Popular Radio Presenter in 2013.
Amaka Fresh-hot as she is also fondly called, is one of the sweetest voices rocking Abuja and its environ. She was born in Lagos but grew up in Abuja. A couple of years ago, the Mid-day Mami as she is known on air actually stumbled into broadcasting by chance after she heard about an Audition on Radio and four years after, sky seems to be the starting point for Amaka in the broadcasting world.
The fun loving chic who got married sometimes last year, is the host of the Rendezvous Radio Show on Hot FM (11am to 3pm every week day). Amaka serves fresh and hot songs on Mondays, she takes you way back on Tuesdays and play all your favourite classics songs, her Wednesday on air is all about request, Thursdays are for strictly Rock songs) while Fridays is about dance tracks to usher in the weekend
Benny Ark needs no introduction, the ace presenter cum, compere extraordinaire has been there done that in the Nigerian entertainment industry. This Bachelor degree holder in Business Administration has been serenading the airwaves with his smooth baritone voice for over eight years as an On Air Personality.
He is a student of the school of life and believes that both men and women are equal but different as a function of their individual purpose. Benny believes the world would be a better place to live in if we all could just learn to accept and appreciate each other's differences.
Every week days from 3 to 8pm, he hosts The Road Show on 96.9 Cool FM Abuja, taking you home in grand style with soul food music. The daily radio programme that has turned Benny to an household name in the broadcasting world, consist of music from today's top hits (Nigerian and international), with a captivating talks on sports, road safety and entertainment, with visible social media Interaction and phone calls, all in one to culminate your drive home and make it one to remember.
Now that the stage is set, there is no doubt on what to expect when these two amazing OAPs emerge for the Night. Aside Benny and Amaka, foremost DJ Kenny is the official DJ for the night while rising singer TC Peruzzi from Ukraine is the event's Special Guest.
The Nigerian Broadcaster's Nite in Abuja to be anchored by Wazobia FM's popular presenter, Big Mo', is packaged by Yankee Entertainment in association with 'The Bank Lounge'. Red carpet is slated for 7pm with special performances from rising and shining music stars.
BENNY ARK
IMG 8810
IMG 8845 EDIT
IMG-6707
PFL-BENNYARK EDIT