LP Won't Defect To PDP —Akinlaja…..Cautions Politicians Against Inciting Comments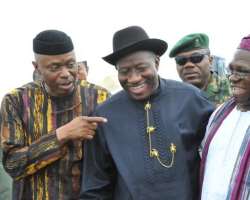 Deputy National Chairman of Labour Party, Hon Joseph Iranola Akinlaja has debunked speculations that Labour Party has perfected plans to dump party for PDP.
Akinlaja who doubles as member of House of Reps, representing Ondo East/West Federal constituency at the National Assembly while fielding questions from journalists in Lagos said, ''the speculation of this imaginary defection to the ruling Peoples Democratic Party was only heightened and peddled by our political detractors. Our party has no such plan. Don't forget also that Governor Mimiko was elected as two-term Governor on the platform of Labor Party and he massively enjoys the support of the principled people of Ondo State.''
''This is a party that is at the verge of winning more states in the country democratically. For those who do not know, the election of Ekiti State will impressively be a game changer in the history of our democracy. LP congress has started already in Ekiti, with many convictions for victory. Also in Ogun state, registration of our party members is still ongoing and the turnout has been phenomenal; many political bigwigs are already joining us and throwing their weights behind us. There are empirical facts that LP is becoming a formidable party that can stand and win election anywhere in Nigeria, judging by the support we are getting from the grassroots every day.'' Akinlaja stated.
Reacting further, the LP chieftain confirmed that there is no place for grandstanding in politics anymore that the country is now in the era where only scorecards count. ''Come to Ondo State, instead of indulging in the usual grandstanding that others have been doing in their respective states, Mimiko is one democrat that is working extremely hard for our people particularly the downtrodden. It appears to me that Mimiko believes that the work itself and the purposeful establishment of an intimidating legacy of good governance, massive infrastructural development, urban renewal initiative, mega-schools, state-of-the heart hospitals/ free healthcare schemes for the vulnerable groups throughout the state will do the talking for him. That is the best model for progressivism.
Now tell me why will a party that has these great potentials and opportunities consider joining any party? It's simply a ruse from the pit of hell. The Governor has said if he wants to align or realign politically, he will make that a public knowledge. People shouldn't misconstrue any so-called relationship noticed between LP and PDP for defection. Our manifesto and political ideologies clearly set distinctions between us.''
When asked about LP's position on national conference, Akinlaja said the party's would-be representatives are still meeting to harmonize their position and once it is adopted by all concerned stakeholders, it would then be made public. He affirmed that LP's final position can't be isolated from how to live together as strong, united nation in harmony; resource control; security; boundary disputes; etc.
He however expressed dissatisfaction on how some political gladiators are showing desperation with respect to 2015 polls. ''Politicians should stop playing politics of 2015 in 2014; this could be inimical to our cherished democracy and national development. Provocative and inciting comments must be eschewed. Of course government can be criticized, even in developed democracies we see them doing that, but the criticism must be constructive and issue based; and I see nothing wrong if superior opinions are offered in the interest of the nation and not for pecuniary interest ''. Akinlaja advised.