Nollywood Actress, Uche Ogbodo 'Flaunts' Baby Bump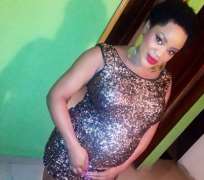 Nollywood actress, Uche Ogbodo has posted online a picture of her protruding stomach.
Recall that few days ago, we reported that the actress has started her journey into the nine-month pregnancy course most women pray for after marriage.
Some months ago, she secretly tied the knot with her Norway based football agent husband, Arthur.
>

Click the link below to go to...
NOLLYWOOD ACTRESS, TAIWO AROMKUN DELIVERS TWINS IN LONDON
Actress Taiwo Aromokun Gets Surprised Baby Shower…To Deliver Soon!
Nollywood Actress Taiwo Aromokun is Pregnant
How Taiwo Aromokun, Hubby, Fought Each Other On Wedding Day
EXCLUSIVE: Taiwo Aromokun's Marriage In Fresh Trouble **Hubby Has 2 Kids In Holland **Has No Dutch Papers After Over 13 Years In Holland
PICTURES: Nigeria Based Guys Have Stupid Mentality About Actresses ----Nollywood Actress Taiwo Aromokun
Yoruba Actress, Taiwo Aromokun Secretly Marries In UK