Omotola Speaks On Successful Marriage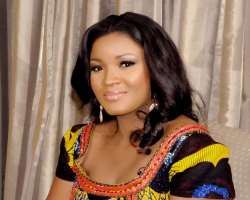 Popular actress, Omotola Jolade-Ekeinde has poured out her mind on gender equality in marriage, which most female-folks have been clamouring for.

Speaking in a recent interview with Punch Newspaper, Omotola highlighted things to do to have a successful marriage. According to her, she doesn't believe in the existence of gender equality, and so called on women to come the understanding that men are heads of the family.
Omotola, who has stayed married for about 18years, said, "I don't believe in gender equality. I do not believe that God made man and woman to be equal in any way. I believe that in every organised institution, there is always a head and an assistant. It doesn't mean that one should take the other for granted, or disrespect the other. I believe the husband is the head of the home and the wife is an assistant."
She further added that, "When a woman starts a struggle for power tussle with him, it tends to cause friction in the home. The woman should give the man the respect as the head of the home and also prove herself as a worthy co-pilot. He needs to see you as a reliable co-pilot.
"Sometimes, he may not be the one running the house day-to-day, you are the one to take decisions but you have to do it in such a manner that he is comfortable enough to see you as someone he can rely on. When you have a proud and egocentric husband, hand him over to God. If you feel like your life is being threatened, or that of your children, get yourself out of that situation."
However, Omotola went on to give tips on how to have a happy marriage. She stressed the need for couples to be close friends and communicate well because friendship breeds true love. If not, what we call love sometimes fizzles out and the initial spark diminishes.
When asked what got her attracted to her husband, she replied blushingly that she got attracted to her husband because of his good look, great sense of humor amongst other qualities.
© 2014 Nollywoodgists.com
Click the link below to go to...
Late Damoche Buried Today Amidst Tears [PICTURE]
Late Damoche Buried Today Amidst Tears [PICTURE]
Damoche's Death: Reprisal Attacks On Going In LASU
Upcoming Singer, Damoche Shot Dead At LASU By Suspected Cultists [PICTURES]