Ibinabo Dares Boko Haram, Goes To Borno For Bomb Blast Victims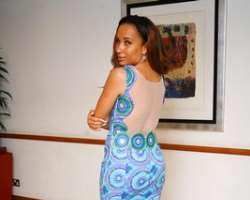 The recent spate of killings by members of the outlawed terrorists' group called Boko Haram has 'gingered' the President of Actors Guild of Nigeria (AGN), Ibinabo Fiberesima, to take it upon herself to do something for victims of recent attacks in Borno State, which have claimed over 100 lives.
While speaking in Lagos at the Shift Celebrity Prayse service held at the Lagoon Restaurant on Sunday, the former beauty queen noted that her foundation 'Ibinabo Care Foundation', would visit Borno and Yobe States to provide relief materials for victims of the attacks that happened in the two states few days ago.
Ibinabo further disclosed that she is worried about the deadly activities of the Boko Haram group and urged that the terrorists' actions in the north eastern Nigeria be curtailed by the Nigerian government. She commended the Nigerian Army for sacrificing their lives for the protection of Nigeria, but urged the military to urgently bring an end to the deadly activities of Boko Hara in the north.
The AGN boss further urged comedians to stop making jokes out of the attacks but work towards bringing an end to Boko Haram in Nigeria.
Ibinabo, who was applauded by Lagos State First Lady, Abimbola Fashola, also at the event, sought for more support from other entertainers in achieving her cause.
Meanwhile, Nollywoodgists.com has confirmed that Grace Amah, Segun Arinze and Charles Inojie have volunteered to go to Borno and Yobe with Ibinabo.
When contacted by Nollywoodgists.com to confirm the time she would make her trip to the 'troubled' states, Ibinabo informed us that "for security reasons" she won't disclose that.
However, she informed us that anyone ready to join her could contact her via her email address and phone number; [email protected] and 08062777777 respectively.