A CITATION ON THE GOVERNOR OF ANAMBRA STATE, HIS EXCELLENCY, MR. PETER GREGORY OBI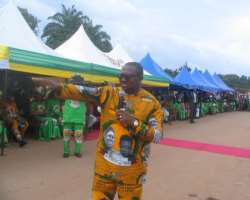 His Excellency, Mr. Peter Obi was born on the 19th of July, 1961 at Onitsha, where his father had already established a successful business.
He was somewhat precocious, because he was well ahead of his peers in so many respects. In 1980, he gained admission into the University of Nigeria, Nsukka, where he read philosophy, graduating B.A (Hons) in that discipline in 1984. No doubt, the course may have contributed in shaping his broad perspectives on issues. It may have also contributed in moulding his character in a way that make him to subject issues to critical analyses.
It would appear that the business blood in his family also runs in him, for as soon as he finished his education, he delved into that enterprise where he distinguished himself a few years after. Climbing the rungs of business with impressive speed, he became the Chairman of Next International Nigeria Ltd. Next International is a well known company that manages the brand of top products in Nigeria and beyond. This is so because Next International imports a good percentage of articles sold in super markets.
With the success of Next International, Mr. Peter Obi's business empire blossomed like a watered rose. As he diversified in his business, he became the Chairman and Director of Guardian Express Mortgage Bank Ltd, Guardian Express Bank Plc, Future View Securities Ltd, Paymaster Nigeria Ltd, Chams Nigeria Ltd, Data Corp Ltd and Card Centre Ltd. He was the youngest Chairman of a 25 Billion Naira Bank, Fidelity Bank PLC, among others.
Recognizing the dynamic nature of the business world, Mr. Peter Obi tried, now and then, to upgrade his knowledge and expand his managerial ability. Thus, at various times, he took top Executive Program and Financial Management Courses at such world renowned management schools as Lagos Business School, Nigeria; London School of Economics; Columbia Business School, New York; Harvard Business School, Boston; Kellogg Graduate School of Management, USA and Institute for Management Development, Switzerland.
Mr. Peter Obi belongs to different professional associations and organizations, some of which are: Nigeria Economic Summit Group (NESG); Nigeria Chartered Institute of Bankers; Commonwealth Business Council (CBC); West African Business Committee (WABC); British Institute of Directors (IOD); British Nigeria Business Council (BNBC) and Nigerian South African Chamber of Commerce (NSACC).
Obi's venture into politics was by accident. He was appalled by the degeneration of governance in the State and wanted, as one of his lecturers at Kellog requested from him, to contribute in building public wealth. He sees the political terrain as a virgin land which he can conquer if he could face it with the same resilience, hard work that hinged on truth and sincerity with which he has confronted the business world. He also saw it as an opportunity to contribute to the advancement of his society.
In 2003, he contested the gubernatorial elections in Anambra State and won overwhelmingly and convincingly, but was rigged out. Nothing daunted, he fought bravely at the Courts and regained his mandate after almost three years. He has set the record as the first person to unseat a serving Governor through due process. About eight months into his government, he was unconstitutionally impeached and he had to fight again, through due process, to regain his mandate.
While the April 2007 general elections approached, Governor Obi expected that gubernatorial election would not be conducted in Anambra State because, having not stayed for four year as constitutionally allowed, there was no need for the election. When it became clear that the Independent National Election Committee was bent on conducting elections, he went to court for the interpretation of Sec. 180(2) of the 1999 Constitution. Even when the Federal High Court and the Court of Appeal, both in Enugu denied jurisdiction to hear the case, he went to the Supreme Court which eventually, through one of the most celebrated cases in the world, say that his tenure started when he took the Oath of Office and that of Allegiance. By that judgement, Obi single handed changed the face of politics and electioneering in Nigeria. We can therefore say that Governor Obi is an inspiring example of one who believes in the rule of law.
Though politics may be a difficult terrain, the giant strides he has already taken within the short time he has been on the saddle, mark him out as a success in that area of life. He is among few politicians that believe that politics should not be devoid of morality.
As a Governor, he is doing very well. He has successfully re-defined politics in his State by playing according to the rules. Thus, he not only shuns thuggery, but always preaches against it. Perhaps among the most touching statement from a Nigerian politician is governor Obi's appeal to fellow politicians to stop using other people's children as thugs when they sent theirs to various schools abroad. Through integrated approach to development, his State is today ranked among the best in terms of democratic dividends.
Gov. Obi belongs to many Committes in Nigeria, some of which are:
Federal Government Committee on Minimum Wage
Federal Government Committee on Negotiation with Labour on Subsidy
Federal Government Committee on Natural Resource Funds
National Economic Council Committee on Power Sector Reform
National Economic Council Committee on Sharing of MDGs funds
National Economic Council Committee on Accurate Data on the Nigeria's Oil Import and Export
Member, Agricultural Transformation Implementation Council
Member, (NEC), Adhoc Committee on the NIPPS/NDPHC Power Project in the country
Member, Technical Sub-Committee on Federal//State Governments' borrowing Plan 2012-2014
Member, Review Committee on the Reports of the NEEDS Assessment of the Nigerian Public Universities
Member, Special Committee for the Development of National Mass Transit
Member, National Committee on Funding of the Police
Today, Obi is popularly known as a "jinx braker" in Anambra State. Much as he has recorded many firsts in the building of infrastructure in the State, he has equally recorded many firsts in taking the lead in many difficult matters. Consider some of his achievements:

The first Nigerian to reclaim his Governorship mandate after three years in courts.
The first Governor to come back from impeachment through the courts, after he was removed 6 months into his office by reactionary forces of Anambra politics of those days.
The first Governor to go for tenure interpretation when INEC allowed elections to take place in the State when his tenure had not ended.
The first Governor to serve 2nd term both in the new and old Anambra State, that is, almost 40 years after creation.
The first serving Governor to be appointed a Special Adviser (Finance) to the President.
The first serving Governor appointed into the Presidential Economic Management team.
Among the first Governors to be honoured with a National Award in 2011, when the honour was extended to serving Governors.
Though only the Governor from a minority party, but elected Vice Chairman of the Governors' Forum.
Though the only non-PDP Governor in the South-East then, but elected the Chairman of the South-East Governor's Forum.
Changed Anambra from Home for All to the Light of the Nation.
First Governor that adopted the Millennium Development Goals as the vision of Anambra State and pursued its achievements relentlessly.
Returned schools taken forcefully from the Missionary for over 40 years to them.
Governed Anambra State for eight years and did not borrow money nor raise bonds rather he saved and invested money for the State.


The secret of Governor Obi's success lies in hard work and his unobtrusive spirituality. Coming from a devout Catholic family, with an elder sister who is a Rev. Sister and a younger brother who is a Rev. Father, he does not joke with his spiritual life. He believes that part of what keeps him going is trying, in spite of human frailties, to live out the ethics of Christ in whatever he does.