Biggest Nose Competition !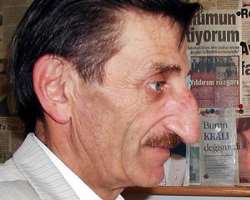 People compete in many things
As latest competition tagged '' Biggest Nose competition is certainly one of the most interesting competitions in the world.
According to reports , this competition is organized in Lafgenbruck, Germany. It has a long tradition, because the championship is more than fifty years old! People from all parts of the world come to this town to compete!
The competition has an interesting history, as we learnt that a group of town officials gathered in a local pub and started talking and making fun of their big noses. One of them said that it would be a good idea to make a big nose club, and the other one replied that they could even have a king of big noses. It was just a joke, but after some time, they started thinking about this idea and established the Association of big noses.
© 2014 Nollywoodgists.com
Click the link below to go to...
Peter And Paul Okoye Set To Have Their White Wedding Together In Dubai
Zaron Ghana Not Happy With Brand Icon-Yvonne Nelson As One Of The People Who Have Been Involved In Bleaching Cases
TIWA SAVAGE'S FATHER-IN-LAW MARRIES YOUNGER LOVER! ...Gets seventh child Featured
Movie star, Doris Simeon Raises An Alarm Over Impersonator Using Her Name For Fraudulent Act
Uche Jombo Sends Birthday Message To Hubby
How the entertainment industry fared in 2013