Mortuary As Part Of Gov. T.A. Orji's 'Legacy Projects' As Contractors Are Asked To Go Back To Sites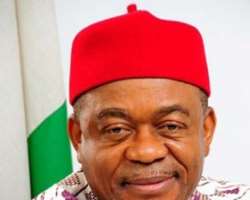 Abia State Government, Governor Theodore Orji
In a fresh statement by Charles Ajunwa (a gentleman to the core, who is the Chief Press Secretary to Governor Theodore Ahamefule Orji of Abia State), the governor has directed all contractors he said that have been funded to handle road and housing works in the state to return to sites.
This scenario has vindicated critics of the government who have always bent on telling the world that the only work going on in Abia State is non-performance. The government is just realising it now that it abandoned works in the state for frivolities, paying lip service that contractors should return to site, as if they were before asked to leave site. Maybe!
Imagine that the contractors who were paid with taxpayers' money abandoned works, yet the governor is not fuming of sending any to court, something he wouldn't do if the residents of Abia State did not pay their imposed taxies and levies. Much as many knew, Abia State has become a place where the government shows blatant levies and taxies and executive delusion with elephant projects and intimidation of people to abandon their property for destruction without remunerations.
Let us take it as an allegation that the government of Governor Orji converts residents' property for self use. While we have read in the media that contractors are asked to return to sites as if there is anything work going on in Abia State, it will behoove us to note that Abia State is one state in the country that has refused to manage its huge Federal Allocation amounting to N54b annually; Internally Generated Revenue (IGR) estimated at N48b naira annually and N64b collected from the Federal account between January and December 2012, by Abia state government.
What this implies is that the state has garnered more money in the year 2013 to 2014. Such allocations as Excess Crude Account, Subsidy Reinvestment Programme (SURE-P), Domestic Crude Account, Nigerian National Petroleum Corporation (NNPC) refund and Foreign exchange discrepancies for oil producing states, are not accounted for, unlike a state like Rivers State does.
With these 'missing' monies, what the state government has succeeded in doing is to convert its youthful agents into chronic praise singers and worshipers of Gov. T.A Orji as a God. They chant and invoke his spirit with the mantra "Ochendo Global" (whatever this means) for him to continue in his trademark of giving them peanuts as wages or salaries while the state burns to inglorious ashes.
Notwithstanding, many Abia youth are defending the state to the chagrin of those who have taken to venerating the governor and churn out lies and hoodwinking articles and pictures to further mislead the unsuspecting masses to believe that the governor is on ground to give the people of Abia State, befitting governance and the benefits of democracy. These set of Abia youth hate discussing the governor, but the welfare of the state, because discussing the governor and his numerous failures cause annoyance much as it is disgusting.
Even some of his aides would say that the governor has been laced with a lot of abhorrence. This is because he is not performing and what they want is for the people who are themselves suffering the detestation of the government to endure and talk about the government with much love and appreciation when Gov. Orji has loathed peace, happiness and love, and has denied the people of the state same.
In earnest, the government of Gov. Orji sees these as its profound development – 1. Dialysis Centre. 2. Eye centre. 3. Abia State Workers Secretariat. 4. Specialist hospital. 5. Government House. 6. International conference centre. 7. Skill acquisition centre. 8. ASEPA complex. 9. JAAC complex. 10. e-library. 11. Primary healthcare centres. 12. Hospitals across the 3 senatorial district. How many mirage-projects the aides said that he has achieved? Just miserly 12 unconfirmed projects for a long period as seven years in office, whereas a governor like Barrister Godswill Akpabio is looking for the state to extend development to.
Go to Akpa Ibom State and just pity Abia State which knows no other functionality order than the chanting of "Ochendo Global!" In trying to boost his dampened image, the governor's aides would unashamedly tell us that the governor has also built a New International Conference Centre, Umuahia, when a governor like Fashola of Lagos State apparently wants more land from the neigbouring Ogun State to develop, hence the governor of Ogun State is speeding up development in all the nooks and crannies of Ogun State.
We are not talking about the Senators from Abia State who have refused to attract any federal projects to the state invariably because the governor is a titular. The government of Gov. T.A Orji should stop its media propaganda of performing when 100% percent chiefly issues that are people-oriented are not addressed. There is hardly any accessible road in Abia State, except in the compound of the governor at his Umuahia village. Imagine that the government is said in a different fora, is also boastful of modernising one Alaoma Mortuary. This is supposedly one of Gov. Theodore Ahamefule Orji's 'Legacy Projects'.
Odimegwu Onwumere, a Poet/Writer, writes from Rivers State.
Tel: +2348057778358
Email: [email protected]
www.odimegwuonwumere.wordpress.com
Disclaimer:

"The views/contents expressed in this article are the sole responsibility of the author(s) and do not necessarily reflect those of The Nigerian Voice. The Nigerian Voice will not be responsible or liable for any inaccurate or incorrect statements contained in this article."
Articles by Odimegwu Onwumere