Keshi rules out Ike Uche from World Cup squad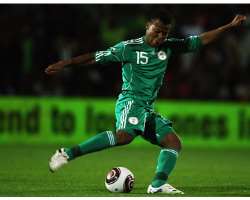 Coach Stephen Keshi has ruled out Ikechukwu Uche from the Super Eagles team to Brazil 2014 World Cup because he 'lacks tactical discipline.'
Uche has been Nigeria's most reliable goal scorer in the last two seasons and has scored 12 goals this term for Villarreal.
On Monday night, the striker returned to action after he was sidelined by injury for two weeks. He last featured for Nigeria in the final of the 2013 Africa Cup of Nations against Burkina Faso.
According to MTNFootball.com, Keshi said from his base in the United States that, 'Ikechukwu Uche is not a player I have not seen play. Ike Uche's problem is not knowing how to play football.
'His problem is that he wants to dictate how we play in Super Eagles, he wants to tell us the system we are playing is not good.
'Uche has a very bad habit, that if you put him in the game he is not playing to instructions and he did that in the final of AFCON against Burkina Faso, he almost cost us.
'Again he did that against Zambia, in the second match when (Efe) Ambrose was given a red card. What we told him to do, he was doing the opposite.'
Keshi added, 'and if you don't respect your team mates and you don't respect the team, then there is no point. I know he cannot do that in his club, then why do it in the national team?
'I don't think I need a player like that in the team.'
When Keshi first hinted of his intention to drop Uche from his World Cup team, Siasia had urged him to reconsider his decision, as he thinks the Villarreal player is the best Nigerian goal scorer.
Siasia, who expressed his delight over Uche's form this season, insisted that the 30-year-old has no equals among the strikers Keshi currently picks.
Saying it was wrong to judge Uche based on his performance at the South Africa 2013 Nations Cup, Siasia added,
'the truth is that we should know that a player cannot be on fire every time.'
'But we know that if we want to pick five good Nigerian strikers for the Super Eagles, Ike must be there. He is that deadly striker in front of the goal.'