Ice Prince Hospitalised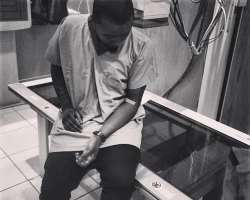 Information reaching us indicates that popular Nigerian rapper, Panchak Zamani, well known as Ice Prince was recently in the hospital in Lagos.
The rapper broke the news on Sunday when he posted a picture of himself in the hospital and urged his fans to remember him in their prayers. "Somebody pray for me. Amen," Ice Prince posted via his twitter handle yesterday.
When Nollywoodgists.com contacted Ice Prince's manager on the matter, he informed us that the rapper has already left the hospital.
According to him, 'it is not a big thing to worry about, he has left the hospital. The doctor told him to have a lot of rest." When asked what could have led to the ill-health, the manager said, 'it was due to stress from his frequent travelling for shows. But he is getting better now.'
Click the link below to go to...
Ebube Is Looking For My Trouble**I Don't Know Why She Hates Me--Anita Joseph Fumes
SHOCKER ! VARSITY UNDERGRAD,UCHE DIES-----
He frustrated me till I aborted the first pregnancy, now I'm pregnant again
15 REASONS To Know If Witches Follow You From Your Village
Eniola Badmus In 'Red-Hot' Romance With Davido?
NOLLYWOOD ACTRESSES AND PASTOR ITUA IGODALO FIGHT DIRTY INSIDE CHURCH
The British government set to withdraw support for Nigerian corrupt officials and children
Grammarian, Patrick Obahiagbon Speaks On Prof. Sofoluwe's Death