I May Not Marry Again--Doris Simon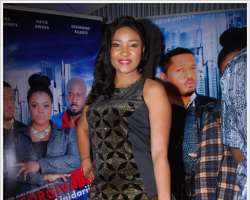 It has been two years since Doris Simon and Daniel Ademinokan marriage broke and then the alleged marriage of Daniel to Stella Damasus happened, and there was a lot of misconception surrounding them, Doris has come out to clear some of these rumours.

Doris said about her broken marriage: "Anything could have gone wrong. Anything could have triggered a fire anywhere. You don't know what might happen the next minute. We are just trying to make things go right, but God has the final say. Yes, things happen in life and till eternity you keep asking that question what went wrong. But if you dwell on that, you won't move forward because everything that happens has God's hands in it. There is a reason why anything happens and it has been written that it will happen that way."

She had to ask herself questions: "Funny enough, after a year, I was like, 'Doris, how do you think you want to move on with your life? What should you do to move on? That was when I decided not to dwell on the past; otherwise, I will go hungry. People that want to laugh at me are out there, so I will rather make them say, 'Aha Aha, what's happening? And I am moving ahead with my life
When asked if she will consider marriage again: "I don't know, but I am not ruling it out because I am human. I might just fall head over heels in love again. But let me still be doing what I am doing. Wherever the Lord takes me, I will go.