Jeremiah Gyang Under Fire Over Nasco Biscuit Ambassadorial Deal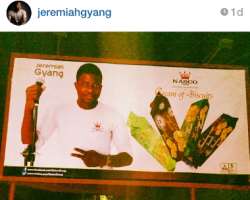 Talented gospel vocalist, Jeremiah Gyang has been lashed out at by some Nigerians over a brand endorsement contract he recently grabbed from Nasco Biscuit, which is based in Jos, Plateau State.
Nasco Biscuit used to be the preferred product consumed by children many years ago until other companies took over the market from them.
The singer announced to his fans some days ago that he had clinched an ambassadorial deal with Nasco Biscuit, but rather than receive praises and commendations for the deal, Jeremiah got knocks from his fans, who lambasted him for being proud of such contract.
'While others are getting endorsements from big telecoms companies, you are here making a peace sign for a biscuit company. Do you think you are still a kid,? one of the fans asked in amazement.
Another said, 'people are wonderful ooo, Jeremiah, Jeremiah, Jeremiah, how many times did i call you? Do you not have a single iota of shame? Ambassador for Nasco? Nasco of old airport in Jos Plateau State? and you are proud of it? I am disappointed in you. Imagine the tacky signboard! I am upset. How much did they pay you for this nons**se?
'You are even doing peace sign, can you imagine? Your juniors are doing ambassador for P**si and you are here doing peace sign for Nasco Biscuit. May Jehovah help you and all the people lying to with congrats. I have nothing to say to you again,' said another fan.
Click the link below to go to...
Cloud of doubt over Uche Jombo's marital status
ANITA HOGAN SPEAKS ABOUT HER N*DE PICTURES SCANDAL
Female Banker Arraigned For Stealing N125 Million
AUDIO: Prelate Akinola's Corruption Sermon That Scared President Jonathan
BREAKING: MAU Students In Heavy Protest Of UNILAG Name Change
Unbelievable!! Jonathan Refuses To Say AMEN To Prayer Against Corrupt Leaders