Broad spectrum licence: NCC ends 3.5MHZ frequency on Dec. 31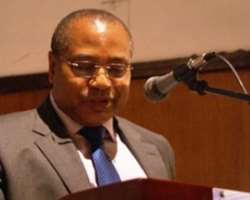 The Nigerian Communications Commission (NCC) has announced that the microwave frequency in the 3.5MHz will cease to be operational on December 31.
Therefore, telecommunications operators using the microwave frequency in the 3.5MHz will not have access to the frequency by the end of the year.
In a statement issued by the Executive Vice-Chairman, NCC, Dr. Eugene Juwah, in Abuja on Tuesday, the regulatory agency said from January 1, 2015, the frequency would no longer be used as a microwave frequency.
The relocation announcement came ahead of the battle for the 2.3GHz frequency by Globacom Limited and Bitflux Nigeria Limited in Abuja today.
Juwah said the operators would be moved to new frequencies in the 27.7MHz band as the microwave frequency band was being re-channelised in accordance with the recommendation of the International Telecommunications Union.
The NCC boss said, 'The commission, following consultations with the industry, has decided to re-channelise the 18GHz microwave frequency band from the original 3.5MHz plan to the 27.7MHz plan in accordance with the recommendation of the ITU (R F.59510).
'This new plan takes effect from January 1, 2015. From January 1, 2015, the 3.5MHz channel plan will no longer be accommodated. New assignments on the band shall, henceforth, be based on the 27.5MHz plan. Channel aggregation shall no longer be allowed.'
Operators use microwave technologies and frequency for transmission purposes. Given the insufficiency of copper and fibre optics transmission facilities in the country, digital mobile operators have found it more convenient to deploy microwave technologies to close the gap.
With the availability of options, the technology is less in use among big operators because of its perceived inefficiency. However, operators retain their microwave installations to stand as optional transmission routes in case of emergencies.
Many small operators in the industry as well as corporate organisations also rely on the microwave transmission.
The relocation of the microwave frequency by the NCC means that the operators that are using it will have to make fresh investments to be able to adapt to the new frequency band that is now designated for microwave.
Meanwhile, the battle to secure the licence for the broadband frequency that the Federal Government is offering will be fought in Abuja today.