Could it be true of Emem Isong?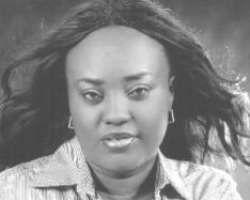 There's a rumour making rounds that reputable screenplay writer and producer, Emem Isong is in a hot romance with a lecturer in one of the higher institutions in Akwa-Ibom state. Emem is a highly respected female film maker in Nigeria who devotes little time for frivolities.
To her credit, she discovered the likes of Dakore Egbuson, Stella Damasus, Stephanie Okereke and many others. These big names today are not only hot, they are among the most sought after actresses the movie industry is proud of.
Unconfirmed source had it that since the crash of marriage plans between herself and her European based ex-lover few years back, Emem has been secretive about her personal life.
She has been described as a lonely heart when it comes to keeping a romantic relationship with man. This is because Emem is one lady who keeps all her activities under cover, and she has not been spotted in any Nollywood function with any lover boy. In fact, she has in recent times been labelled the ladies woman, as top actresses surround her all the time.
It is no longer news that Emem moved on with her life and decided to avoid close contact with men, but what people don't really know right now is that this top movies maker is seriously scouting for a partner.
Her fellow country people who are aware of this development, according to sources have contributed immensely to ensure that she hooks up with a very responsible man.
A top Akwa Ibom entertainment entrepreneur, and the father of up and coming Efik speaking artiste , is said to have arranged a lecturer in one of the higher institutions in Akwa-Ibom State to hook up with Emem who they described as a really Efik woman who knows her onions in the kitchen activities.
The romance, source revealed, kicked off when a hot entertainer dragged this averaged aged man from Akwa Ibom State to O'Jez restaurant and bar in Lagos to see for himself who Emem is, and probably notice all her achievements in the film making industry. It was disclosed that they actually had their first date at the restaurant sometimes last year and the romance kicked off from there.
But if this rumour is to be anything to reckon with, then Emem will surely begin a new life devoid of loneliness. She remains an example of a woman who has contributed immeasurable to the development of the home video culture in Nigeria. One wonders that Emem, after all her restlessness and creative voyage, could find time to confess love to a man. Is it really true of Emem Isong's new found love?
Story by nollywoodgists.com