Lagos State PDP Visits Ikorodu LGA; Receives 2000 APC Decampees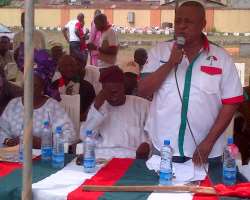 The lagos State PDP today continued its LGA visitation in Ikorodu LGA. The Party used the opportunity to welcome about 2000 APC decampees to its fold.
Speaking on behalf of the State Chairman, the deputy Chairman, Ola Apena, admonished the members to be stronger in Unity and not relent in the Unstoppable movement to the Seat of government.
He also commended the President, Goodluck Jonathan, for visiting the Royal Fathers in South West, especially in Lagos State. He described the visit as manifestation of the president's Transformation Agenda in the area of Politics without bitterness. He thus berated the opposition for sponsoring the Blackmail that the President had come to Lobby the royal fathers' to support his 2015 ambition.
Finally, the Chairman appreciated the decision of the federal Executive Council to construct the Fourth Mainland Bridge linking the Ikorodu to Lekki in the State.
The decampees cited Authoritarianism and lack of internal democracy as their reasons for leaving the APC. They particularly mentioned that about 70% of their groups were deprived membership registration which they see as threat to their political ambitions. They promised to work honestly with PDP for the defeat of APC in the State.
Signed:
TAOFIK GANI
Lagos PDP
2014-02-17 172534
2014-02-17 172551