Oduahgate: We're still investigating, says EFCC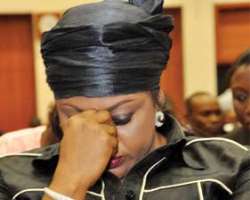 The Economic and Financial Crimes Commission has promised to make public the outcome of its investigation into the purchase of two BMW bulletproof cars for N255m by the Nigerian Aviation Civil Authority in 2013.
The Head of Media and Publicity of  the EFCC, Mr. Wilson Uwujaren, said during a news conference in Abuja on Friday that the operatives of the commission were still investigating the scandal which rocked the aviation ministry under the then Minister, Ms. Stella Oduah.
Uwujaren was silent on whether or not the commission would invite the sacked minister for interrogation.
He noted that it would be improper for any law enforcement agency like the EFCC to give a prior notice of invitation to a suspect.
He said that what should concern Nigerians was EFCC's investigation of the case and not whether Oduah had been interrogated or would be invited for questioning.
He said, 'I think the issue is not whether we are going to invite Oduah or not; what should interest Nigerians at this point in time is whether EFCC is on that matter or not.
'And I can tell you that the commission is on top of that case; we are investigating it and in due course, we shall tell you the outcome of that investigation.
'As you know, no responsible law enforcement agency would give a prior notice to invite a suspect in a matter. We don't do that.'
Last year, operatives of the commission interrogated some key players in the aviation sector and their private sector counterparts in relation to the N255m bulletproof car scandal.
Those interrogated were the Managing Director of the Federal Airport Authority of Nigeria, Mr. George Uriesi; the Director-General of the Nigerian Airspace Management Agency, Mr. Nnamdi Udoh; the Director-General, Nigeria Civil Aviation Authority, Capt. Fola Akinkuotu; Managing Director of Coscharis Motors Limited, Josiah Samuel, whose  company supplied the   bulletproof cars  and  some officers of First Bank Plc.