Liz Benson's Return To Nollywood Excites Fans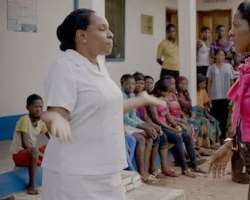 Recently, veteran Nollywood actress, Liz Benson made a surprise return to the movie industry. The pretty and talented screen queen was featured in Stephanie Okereke-Linus' new flick, 'Dry', which talks about Vesico Vaginal Fistula (VVF), a disease in women which is common in the northern part of Nigeria.
Since her return to Nollywood was made known in the media, there have been excitements in the air, especially among her teeming fans, who have missed seeing her face on their television screens for a very long time. Some of her excited fans have now urged her not to leave the industry again.
Those who spoke with us about Liz Benson's return their expressed joy in having her back after several years away. "I have really missed seeing my darling actress in movies. She is one of the best actresses in the land," one of them told us.
Another fan said, "Liz Benson is a role model any day, anytime. Her acting skill is superb, no one can beat that. Others are just trying because Liz Benson is a class of her own." "My fear is for her not to go silent again like she has done before now. It is always exciting having such a talent in the industry," another excited fan of the actress told Nollywoodgists.com.
Liz Benson started acting as a kid. She gained stardom when she acted in the popular television series, 'Fortunes' in 1993, where she played the role of Mrs. Agnes Johnson. Her role in 'Glamour Girls' also stood her out.
In 1996, she left acting to become a born-again Christian. In 2009, she married Bishop Great Emeya at the Rainbow Christian Assembly, Warri, Delta State, which was her second marriage, having lost her first husband, Samuel Gabriel Etim to death.
Liz Benson is presently involved in the work of soul-winning for God in Warri, where she is based with her hubby.