Seven Energy Partners With Akwa Ibom To Improve Power Supply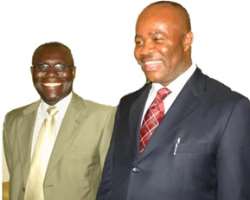 SSA On Power Dr. Udo With Governor Godswill Akpabio
Governor Godswill Akpabio's efforts for Public Private Partnership recorded a feat recently in the power sector.
At the monthly power sector operational stakeholders meeting held in the Office of the Senior Special Assistant to the Governor on Power, Seven Energy, an indigenous Nigerian oil and gas company, expressed interest to partner with Akwa Ibom state to improve power supply.
While addressing the operational stakeholders which consists of Transmission Company of Nigeria (TCN), Ibom Power, Government and industry representatives, Seven Energy's Vice President, Operations, Engr. Ani Umoren said that "Seven Energy will engage in the partnership through one of its principal subsidiaries, SEPTA Energy Nigeria"
Engr. Umoren noted that the major challenge confronting Akwa Ibom state's power sector is "how to achieve steady power generation, transmission and distribution to improve profitability"
He said the partnership between SEPTA Energy and Akwa Ibom Power sector stakeholders is aimed at addressing this challenge because "part of the objective of the partnership is to deliver continuous power supply in Akwa Ibom state"
Speaking further, he explained that "SEPTA Energy is willing to work with Akwa Ibom power stakeholders to ensure that power generated from Ibom Power plant is used to enhance economic activities in the state"
He added that the partnership will also provide a roadmap and coordination towards achieving sustainable power in Akwa Ibom state."
Responding to the partnership, the Senior Special Assistant to the Governor on Power Dr. Victor Udo, said "the partnership is a welcome development because it will help actualize the vision of His Excellency for uninterrupted power supply within the shortest possible time"
He mentioned that "SEPTA Energy is the supplier of gas to Ibom Power plant, if the gas is supplied and the power generated is successfully transmitted and distributed but the final consumers do not pay their electricity bills it amounts to losses so there is need for proper coordination between the power sector stakeholders"
The SSA added that "the partnership with SEPTA Energy is a win-win-win situation for the Government, Public and Private sector"