EXCLUSIVE PHOTOS: EMMA NYRA, ENDIA, OD WOODS, UNLIMITED LA, BUTAFLY AT TUSH MAGAZINE ISSUE 6 'MEET & GREET'.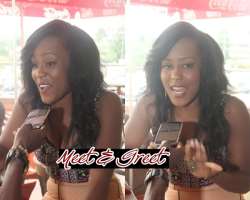 The ambient atmosphere of Bheerhugz Cafe, Ikeja City Mall venue of the event provided the perfect setting as one of Nigeria's urban youthful magazine, Tush Magazine held its Autograph and Photograph session with its Issue 6 cover page personalities and featured artistes in a special event tagged 'Meet & Greet'.
The event had Emma Nyra, Endia, Od Woods, Butafly, amongst others as they doled out free Autographed Tush Magazine Issue 6 to their fans and Tush Magazine's readers.
Put together by Tush Kingdom Media and Yanga Media Networks, 'Meet & Greet' is an event that connects fans/readers and lovers of Nigeria young artistes to their favourite artistes.
Speaking after the event, Anslem Jon (Editor, Tush Magazine Nigeria) "We feel grateful and honoured having such a successful event in Nigeria, where the Autographs ideaology is still quite growing. We are making arrangements to spread the event to other parts of Nigeria so more youths can have signed copies of their favourite acts".
Below are shots taken:
Reported By: Leonard Onwubuoya (Sub Editor, Tush Magazine)
Pictures Courtesy of LMK (Head Co-ordinator, Yanga Media)