DO YOU KNOW THAT LATE HUBERT OGUNDE WAS A CHRISTIAN?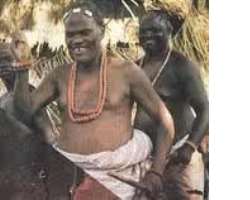 For those who don't know, late Hubert Adedeji Ogunde was a powerful man who was part of the pioneers of the acting industry in Nigeria many decades ago.
The late doyen of theatre, Hubert Ogunde was born on 31 May 1916 in Ososa, near Ijebu-Ode, Ogun State, and he died on 4 April 1990 in London, precisely in England. He was a Nigerian actor, playwright, theatre manager, and musician who founded the Ogunde Concert Party in (1945), the first professional theatrical company in Nigeria. He has been described as "the father of Nigerian theatre, or the father of contemporary Yoruba theatre".
Ogunde is known for his mysterious play. He became the leading producer of Yoruba celluloid movies with J'ayesinmi (Let the world rest) and Aiye (Life!) blazing the trail. He also had his mysterious master drum which used for salvation in movies, and this made many believe that he was a typical herbalist. But this blog, can confidently tell you that he was a christian and he worshipped at Anglican Church. In his gigantic bedroom, Ogunde had a specially arranged corner which used for prayers and the place, even till date, is decorated with an attractive Christian Cross.
Click the link below to go to...
Comedienne Princess Accuses Bloggers For Her Marriage Crash
How I Felt Kissing Kenneth Okonkwo ––Actress Chizzy Alichi
Nkiru Sylvanus Lobby's For State House Of Assembly Job In Abia State
Ghanaian Musician Diamond Appiah Diss Iyanya [Video]
Nollywood Actor Charles Waren Died Same Day As Popular Comic Actor, Shehu Jibril
Famous Comedian, Shehu Jibril Is Dead