Chelsea go top of EPL with Hazard hat-trick against Newcastle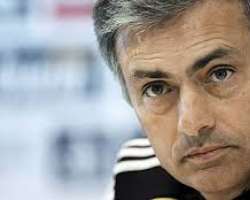 Manager Jose Mourinho again played down Chelsea's title chances even though his team capitalised on slip-ups by their two nearest rivals to march to the top of the Premier League on Saturday.
Belgium winger Eden Hazard stole the show with a hat-trick as the Londoners recorded a comfortable 3-0 home win over eighth-placed Newcastle United.
The victory put in-form Chelsea one point clear of second-placed Arsenal, who were thrashed 5-1 at Liverpool, and two ahead of Manchester City who drew 0-0 at Norwich City.
"We are top of the league and that is something we can't hide," Mourinho told reporters when he was asked if he was again ruling out Chelsea's chances of winning the league with 13 games left.
"I say the same and I feel the same. It's not just to say, it is to say and to feel. I do not change."
Mourinho played down a suggestion by Newcastle counterpart Alan Pardew that this Chelsea side is the best yet under the Portuguese.
"My team here was an amazing team that lasted for almost a decade," said Mourinho, referring to the squad that won the title in 2005 and 2006 during his first spell in charge.
"They are players that are part of the history of this club. These players here are just starting."
Despite his attempts to play down Chelsea's championship prospects for the umpteenth time this season, the momentum has swung their way after they also became the first side to win at City on Monday.
Worryingly for their rivals the 2012 European champions have started to show the kind of consistency that Mourinho brought to the club when he first moved to Stamford Bridge 10 years ago.
The win against Newcastle was their eighth in the last 10 league matches and Hazard's two first-half goals were both the result of the fluent, quick passing that has cut open the best teams in the division this season.
Hazard completed his hat-trick in the 63rd minute, taking his goal tally in the league to 12 this term, when Frank Lampard gave up his role as penalty taker and allowed the Belgian to score from the spot after Samuel Eto'o was bundled over at a corner.
Reuters