FINALLY OLUMAINTAIN OPENS UP ON SECRET WEDDING PHOTOS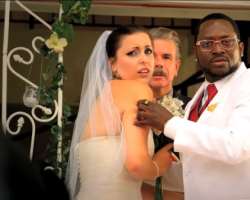 FINALLY OLUMAINTAIN OPENS UP ON SECRET WEDDING PHOTOS
The pictures suggesting a marriage vow between Nigerian artiste, Olu Maintain and a Brazilian beauty were leaked(or so we are made to believe).
With such wedding photos going viral, nigerianfilms.com decided to speak with the numerous hit wonder," If Olumaintain is married or not, the right time will tell. However, I will be honest to you in the light that so many things has happened upon my visit to Brazil. I will tell you that the visit to Brazil has blessed my life and the emotions are beyond imaginations. Stay focus there's no smoke without fire...every thing will be made known to the public soon" he said.
This is not the first time, artistes will go the extra mile to create publicity stunts. Time will tell if this is another staged stunt, a behind-the-scene clips of an upcoming music video or a secret wedding.