President Jonathan New Special Advisers AndND Chief Executives For NTA, FRCN, NAN And SURE-P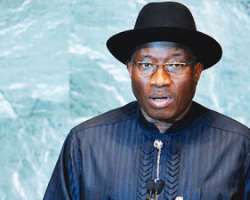 In furtherance of efforts to continually strengthen his administration on all fronts, President Goodluck Ebele Jonathan has approved the following appointments to fill existing vacancies:
1.      Gen. Martin Luther Agwai    - Chairman of SURE-P
2.    Mrs. Tanwa Olusi                  -        Deputy Chairman of SURE-P
3.    Mrs. Fidelia Njeze                  -       Special Adviser (NEPAD)
4.    Senator Suleiman M. Ajadi  -        Special Adviser (NASS)
5.     Mr. Sola Omole                     -        DG, NTA
6.    Alhaji Ladan Salihu               -        DG, FRCN
7.     Mr. Ima Niboro                    -        MD, News Agency of Nigeria
Gen. Martin Agwai (rtd.) was until now the Deputy Chairman and Acting Chairman of SURE-P while Mrs. Njeze is the current Nigerian Ambassador to Switzerland.

All the appointments are with immediate effect.