Charity Boxing Match - The Game & DMX To Fight George Zimmerman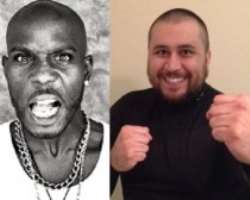 George Zimmerman doesn't have just Kanye West in his boxing ring but rappers The Game and DMX have both offered to have a beat down with the man acquitted of killing Florida teenager Trayvon Martin in July 2012, in a forthcoming charity boxing match in March.
&
According to NME, 'Zimmerman has signed a contract to take part in a fight on March 1. An opponent has yet to be confirmed and promoter Damon Feldman is currently in the process of securing a second fighter for the contest. The Game, who is 6'5″ tall and got a tattoo in tribute to Martin following Zimmerman's acquittal, last year, has subsequently put himself forward for the challenge.
Meanwhile, DMX has also put himself forward for the match-up and also told TMZ he would fight for, 'every black person who has been done wrong in the system'. Echoing The Game's sentiments, he continued: 'I am going to beat the living f**k out of him. I am breaking every rule in boxing to make sure I fuck him right up. Once I am done with him, I am going to whip my d**k out and piss on him, right in his m*thaf**kin face.'
As we earlier reported, Zimmerman opted to beat up rapper Kanye in this same match - if he also wants to - because he's allegedly notorious for assaulting innocent people. Now, two black famous rappers are planning to beat him up too for killing unarmed Trayvon Martin in 2012, even though he was found not guilty of all. The 30 year-old claimed self-defense and was cleared of all charges a year later.
'I would not be boxing for me,' The Game told TMZ. 'I'd be boxing for the legacy of Trayvon Martin and for his family. I would box him to knock him out. I would definitely take pleasure in it. It's legal, and I want to show him you can solve your disputes without a weapon.' The rapper concluded.
Match promoter, Feldman backed The Game as being the ideal opponent for Zimmerman's fight. '[George Zimmerman] is open to any challengers that make sense,' said the promoter to AllHipHop, 'but he is training hard and he said '(The) Game is the perfect opponent.''
Guys, what do you think of this fight?