Spain strengthens bilateral relations with Nigeria in movie exchange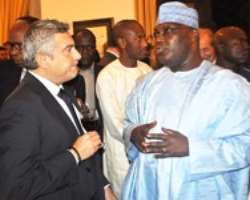 The Spanish Ambassador to Nigeria, Mr Alvaro Alguela, on Tuesday said his country and the Nigerian Film Corporation (NFC) had a collaboration to exchange movies produced by both countries.
He stated that the collaboration would promote the rich cultural heritage of both countries in the area of film production.
"We have collaborated with the Nigerian film festival, the Film Corporation and the Zuma festival.
"Two years ago, we received an award from the Nigerian Film Corporation for our co-operation with them.
"Having said that, our relations bring to Spain more Nigerian movies. Nigerian movies are not well known in Europe. It is not like the case in Africa.
"And particularly, there was a specific film festival for African movies in Spain which was organised first time eight years ago.
"It was the only film festival. The idea is to increase the participation of Nigerian movies in this film festival and in Spain in general.
"The most important thing of our collaboration is to  get to know each other better, to get to know Nigeria and African people better in Europe and the other way round.
"It is also to make Spanish and European people better known in Africa, because we don't know each other enough.''
The ambassador said the Spanish embassy in Abuja organises film festivals every year to promote young Nigerian artistes.
He stated that the festival also featured visual art competition for Nigerian artists, noting however that the embassy would improve on the festival.
Alguela said the Spanish government gave a special prize to a young Nigerian artist at its annual cultural festival.
He stated that Spain was prepared to assist upcoming artists in Nigeria.
The ambassador noted that that the winner in the competition had also been awarded a trip to Spain to enable him participate at the international contemporary arts festival.
He expressed optimism that the collaboration between Spain and Nigeria in the area of film exchange would lead to other areas of bilateral co-operation.