Generation From Ibom Power Plant Boosts Power Supply In Akwa Ibom State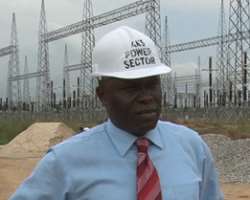 Akwa Ibom State SSA On Power, Dr. Victor Udo
"The vision of Governor Godswill Akpabio for uninterrupted power supply in Akwa Ibom state will become a reality within the shortest possible time".
This statement was made the Senior Special Assistant to the Governor o Power, Dr. Victor Udo who mentioned three major developments in Akwa Ibom Power sector to assert his statement.
He said "the completion of a gas infrastructure in Esit Eket, upgrade of the Eket-Uyo-Itu 132kV transmission lines and the restoration of Ibom power plant Unit 3 are the reasons His Excellency's vision will soon be accomplished"
Speaking further he explained that "under the leadership of the new board appointed by His Excellency, General Electric has completed the general combustion inspection of Ibom power plant and the plant is running that is why there Has been improved power supply in Akwa Ibom state in the last few months"
Dr. Udo said the "power generated by Ibom Power Plant is not only consumed by Akwa Ibom people but by Nigerians as a whole through the National grid"
He seized the opportunity to appeal to Akwa Ibom people not to allow anybody vandalize the power infrastructure in their community.
He said "many a times power is not flowing because the transformer or associate cables have been stolen or vandalized so when you see someone tampering with power infrastructure in your community call the police or contact the Office of the SSA to the Governor on Power through 08081134400 or contact us through www.akspower.com"
Meanwhile, in a telephone interview, the Business Managers in the three Business Units of Akwa Ibom state have confirmed the improvement in Power supply.
Engr. Uduma Okala, the Business Manager at Uyo Business Unit, said that "there has been a significant improvement in power supply because Ibom Power Plant is on"
While Engr. Kelly Effiong and Engr. Uzoma Mbuko, Business Managers in Eket and Ikot Ekpene Business Unit respectively, also confirmed the improvement in their units.
In a related development, some residents of Afaha Idoro and Nwaniba who had previously complained to the Office of the SSA on Power on lack of power supply have also recorded an improvement in the power situation in their respective areas.
Mr. Fred Uwah a business owner at Afaha Idoro said "we have not experienced any power outage, the power has been constant" while Mrs. Happiness Johnson a resident of Nwaniba said "power supply has improved for a while now"