US Rapper, Wale's 'Olamide's Gun Man Pose' Excites Nigerians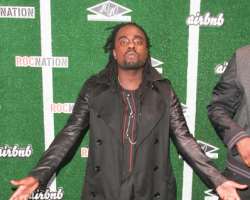 Since Olamide started the 'Gun Man' pose, it has gone viral with some celebrities doing the pose.
At a party held in Lagos, Mavin Records boss, Don Jazzy did the pose, which was widely reported by some entertainment blogs in Nigeria.
Some weeks ago, some students of a higher institution in Nigeria hit the headlines for doing the 'Gun Man' pose as well as some female fans of the young rapper, who were bitten by the 'bug'.
Few days ago, US-based Nigerian rapper, Wale, was spotted at a New York party doing the same viral pose. This again, as expected, has continued to make different headlines of some top blogs in Nigeria.
Wale's pose has continued to excite some Nigerians who are surprised that Olamide's 'idea' has gone international.