Angela Okorie Debunks Death Rumour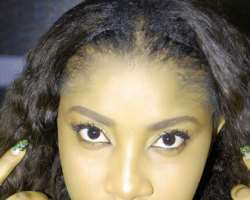 Fast-rising actress, Angela Okorie has vehemently debunked the death rumour trailing her.
Yesterday, one up and coming actress based in Rivers State, Ijeoma Okori was reported to have died during childbirth. Some online blogs mistook the said late actress to be Angela.
The falsely reported death story then spread like wild fire, which kept some of her fans very worried.
The actress, while reacting, berated those spreading the false death rumour about her and threatened to deal with them.
She said, "don't mind the haters, it is their handwork, I'll deal with them very soon, I am not dead, infact as am speaking to you now, I am in Enugu, shooting a movie, that's the work of hateful bitches and I would soon deal with them!"