I'm As Bad As Justin But I Don't Do Illegal Things! - Miley Cyrus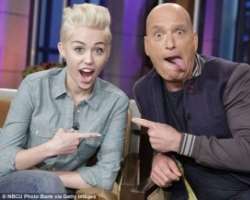 No doubt Miley Cyrus is almost as controversial as Justin Bieber but what makes the difference is the fact that the Wrecking Ball crooner hasn't been handcuffed just yet! The singer was on The Tonight Show with Jay Leno last night and dished out on why Bieber is not so wise as the world and all little girls thought!
Cyrus waded into the Justin Bieber controversy by offering him some candid advice on The Tonight Show. The sage 21-year-old had some under fire words for the teenager [Justin] who is being convicted for assault in Canada and facing DUI and resisting arrest charges in Florida.
She said: 'You've got a lot of money. Pay people to make sure you don't get in trouble, and party at your house. Buy a house, and add a club to it.' Hope Justin can find some truth in this!
Well, answering tricky questions on how she has succeeded to stay out of jail, even with the 'craziness' going on with her personal life, the former Hannah Monatana star said, 'You know it's funny cos today I was looking, my fans had put all these mugshots up and they were like, 'I don't see a Miley mug shot yet.' She added, 'I get the most flack from anybody but I don't do anything illegal.
I'm doing a lot of s***, but I'm not doing anything illegal - so that's alright. Everything I do is legal in California.'
The Bangerz star also took time to clear out her tongue-sticking swag on the show. She also revealed her mother gets angry that she keeps sticking her tongue out on stage and for photographs. But Miley explained, 'It's because don't like getting my picture taken, I kind of get embarrassed. You don't see it, on the red carpet the people taking your pictures are yelling at you and it gets you a little nervous. They're screaming I don't know what to do so I just stick my tongue out because I don't know what else to do.' She jokingly added, 'People are doing it, Madonna's doing it. It's all good.'
About her relationships, the singer who surprisingly donned a Saint Laurent shirt, jeans and shoes disappointedly just spoke about her first love or crush, 'It's weird when guys ask me who was my first boyfriend and I have to tell people it's Willie Nelson and tell you, I have to go into the whole story.'