Actress Kerry Washington Is 37 Today!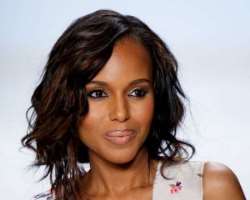 Actress and wife of former NFL player Nnamdi Asomugba is 37 today, the pretty fashionable actress who has been around for a while is still going strong and has a lot to be grateful about.
Kerry Washington has featured in a lot of successful box office movies including Quentin Tarantino's Django unchained where she starred alongside Jamie Foxx to a great TV series; Scandals where she acted Olivia Pope which earned her a Golden Globe award and another SAG Awards nomination for best actress only this year.
The flawless actress who secretly married her beau is also expecting his baby; she gorgeously revealed her growing bump in a custom made Balenciaga at the Golden Globes, she has continued to be a sought after Hollywood act.
We wish the very Olivia Pope a very happy 37th birthday!