Band Stars Group 'Day 26′ Performs Together Again After Four Years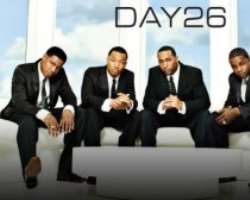 Former Making The Band stars Day 26 have been away for four years and they are only getting back together for the first time to perform in New York last night. The male group still insists, fans shouldn't consider it a comeback just yet.
Like their fellow 'Making The Band' graduates, Danity Kane, the group has been linked for a possible reunion this year and their performance at SOB in New York during the Grammys frenzy, is just a prove of that.
However, unlike DK, Day26 managed to get all of their original members back in the mix, including Dawn Richards' ex Que. We haven't heard much from the group's solo careers throughout the years, but last night they made sure their harmonies were on point to show fans they could still get down.
According to Urban Bridgez, one of the group members, Willie Taylor, said back in 2012 that even though Day26 had their issues and was a wrap, he wasn't going to count a reunion out just yet.
'I'm not a petty person so I would bring Que, Mike, Brian, Rob and myself, everybody, because that's who people grew to love through the television show and the first two albums, so I would bring it all back. I honestly don't even think it would make sense without them all. Right now, they all have my support and I hope I have theirs. I just want the fans to know I was there to the end, never missed a show, always in the studio and never late, because I believed in the brand.'
I guess the guys were able to forgive and forget but with DK and Day26 getting back together, we can't help but ask: Is this leading to a great new reality TV show once again?
Musical video of the song Since You've Been Gone.