Kanye West Goes Wild In Paris. Climbs On Table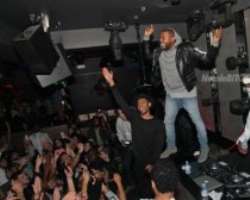 Kanye West needed no Kim Kardashian for him to have a great time in Paris. The controversial rapper was captured partying so hard this week with some male pals at Club 79, same place where British singer, Robin Thicke was spotted on Monday, smooching with a mystery beauty.
Kanye appeared happy and expressed his happiness by jumping on the DJ's desk to urge the crowd to join in his fun. Maybe, maybe not they were hitting up one of his joints, but the Yeezuz star obviously looked like he was just having a good time. Reports say there was enough drinks in the house!
What will Kim say? She may not offer a word. After all, he was all alone with his guys, no woman like was the case of Mr. Thicke who still hasn't made a single comment over those compromising pics of him kissing a sexy lady - not Paula Patton!
Ladies, what do you think about your man partying the Kanye-way without you?