National Assembly Commission gets new Secretary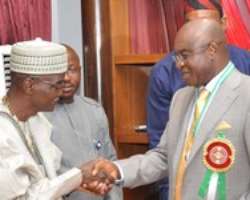 Mrs Mary Ibikunle has been appointed substantive Secretary for the National Assembly Service Commission (NASC).
This is contained in a statement signed by Mrs Janet Mambula, the Head of Public Relations Division (NASC) in Abuja on Wednesday.
The statement said the appointment took effect from Jan. 16 as contained in the appointment letter signed by the Chairman of the commission, Dr Adamu Fika.
Before this appointment, Ibikunle was the Director of Appointments and Training in the commission.
Ibikunle, who joined the commission in 2002 as an Assistant Director, thus becomes the first female officer to hold such position in the commission.
The position became vacant following the retirement of the former secretary, Chief B. N. Osuji who later died in Dec. 2012.
NASC was established in 1983.