Ramsey What Kind Of Kissing Is That? - Ramsey Noah's Wife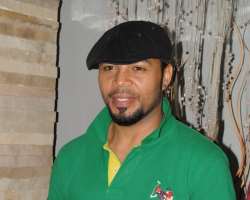 It is indeed hard to see a woman or a man seeing his or her spouse kissing another gender in a movie, for most women they actually take it tough and for some others they understand.
Nollywood actors and actress who are married always come out to say what their spouse think about their intimacy with the opposite sex in a movie, here is what Nollywood actor Ramsey Noah has to say about his wife thoughts, also calls her a triple woman in a recent interview:
You have been married for a while, how have you been able to hold your home together?
I must give it to my wife. She's a triple woman. She's not like an ordinary woman out there. When some people asked my wife how she copes with an actor husband, I told her to tell them that is why she is a triple woman. The first thing I told her was that, if every woman that says I cannot live with your husband, will actors get married? Will actors ever marry or have a family? I told her it is because you are more than just a woman. Sometimes, she says
"Ramsey what kind of kissing is that? Na all my market you don go sell finish for camera". One woman came in from Benin to meet my wife that she was the one i once married. This woman stayed in our house for three days until I get the police to come and drive her away. It was such a nasty experience that makes me laugh every time.