Jennifer Lopez: marriage is still in my mind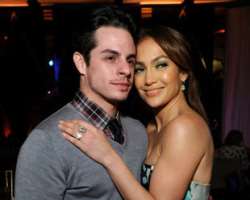 Jennifer Lopez has been dating back-up-dancer-turned-boyfriend Casper Smart for nearly three years-and in Hollywood, that's practically a lifetime! For a celebrity couple, especially one that's as cozy as these two look on the red carpet, that kind of relationship staying power could indicate wedding bells in the near future. But J.Lo, who has been married three times previously and engaged once (as much as we love Jennifer Garner and Ben Affleck, "Bennifer" still has a place in our hearts), isn't so sure she's ready to walk down the aisle.
While on a Winter TCA press tour for American Idol this past week, Lopez shed some light on her views of marriage. When asked whether she sees an "I do" in her near future, J.Lo replied "I don't know, maybe, we'll see." However, E! News reports that the singer and returning Idol judge also told reporters, "I always believe in that institution, my parents were married for a very long time, they were married for 35 years." She also revealed that she likes having a significant other. "I'm one of those people who does not like to be alone," she confessed. "I have no shame saying that at this point in my life, I think we have to own who we are."
So while she may not be planning a wedding anytime soon, there are a few important factors working to the couple's advantage. First, Casper is always by his beau's side on the red carpet (as can be seen, above). Second, look at that huge ring on her left finger! A different stack of diamond rings sparked engagement rumors this past summer, and while they were swiftly quashed, we still hope that sizable diamond is one of the promise-making kind. Finally, Lopez dished that Casper is great with her kids (twins Max and Emme, from her previous marriage to Marc Anthony). "I don't like the word father figure, but he's fantastic with the kids and he helps me very much with my work," the singer said.
Strong values, obvious affection, and a ton of support-sounds like a recipe for a successful marriage to us! We'll just have to wait and see. BRIDES