COURT VERDIT: NO VICTOR, NO VANQUISHED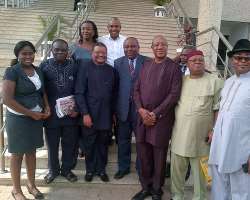 The All Progressives Grand Alliance commends Justice Abdulkadir Abdul–Kafarati of the Federal High Court Abuja for the very incisive judgement he delivered on Wednesday 15th January, 2014, in the Suit No: FHC / ABJ/CS/563/2013 between Chief Maxi Okwu and four others and Chief Victor Umeh, Alhaji Sani Shinkafi and INEC. The judgement is indeed another opportunity for the party to re-discover its soul and move forward. We give all glory and thanks to God Almighty for this opportunity. We do not claim victory and no one has been vanquished.
We call on APGA members to resolve that there be an end to litigation as no party can make progress through incessant, protracted, intra party dissension and litigation.
With this re-confirmation of our leadership, we shall reactivate with greater vigour our re-engineering and re-branding of APGA by completing in the first instance the three–R, rapprochement, reconciliation and re-integration of aggrieved members of our great party. The other key element in this road map is that APGA will lead the third political force for the 2015 general election.
Once again, as I have always done in each opportunity to extend an olive branch and a right hand of comradeship to our erstwhile National Chairman, Chief Victor Umeh. We are prepared to meet with him without pre-condition at Enugu where APGA was first launched at his convenience.
CHIEF MAXI OKWU
IKENECHEOHA II
NATIONAL CHAIRMAN, APGA