Ciara's Fiance Future Bans Smoking Backstage To Protect Unborn Child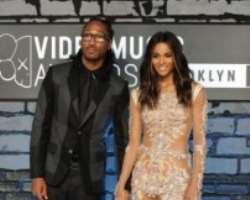 Pregnant singer Ciara is in safe hands likewise her unborn child because her fiancé, Future says so. The rapper has reportedly banned smoking backstage on his current tour to protect his baby mama and their first child.
According to TMZ, the singer's baby daddy is not leaving any stone unturned and he is putting the health of CiCi and their kid first before even music. The rapper also ordered for healthy foods supplied throughout the tour, even though the singer has only been able to attend two of Future's shows, as she suffered from severe morning sickness, report says.
The 28 year old Grammy winner is reportedly 7 months gone and was spotted yesterday leaving the luxury Lowell Hotel in New York in a sleek maternity outfit. The singer donned tight, black leather pants over lace-up stiletto booties and covered her baby bump in a black hoodie; and topped up her look with a smart blue suede jacket with a fur-lined hood while hiding her eyes behind dark shades.
As for whether she would keep up the sleek preggy look, Ciara admitted to HuffPost Live early Tuesday that it won't be for long, 'I kind of want to take the theme that 'baggy is the new sexy',' she said, 'I don't know, I just want to be comfortable. When I can't wear heels anymore, I won't wear heels. I'll be putting on my Jordans. My Jordans and my Uggs will be my best friends, but it's all about being comfortable.'
Yeah CiCi, ask Kim Kardashian all about that!