Tukur resigns as PDP chairman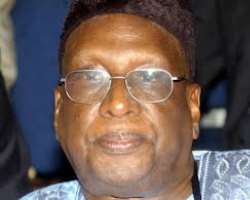 Finally, Alhaji Bamanga Tukur has resigned as the chairman of Peoples Decmocratic Party.
A party insider confirmed to THE RAINBOW last night that the long embattled chairman of the party had actually resigned from his position, bring to an end about two years of crisis-ridden tenure.
Tukur's tenure was hallmarked by endless crisis leading to the eventual defection of five governors from the party to the opposition fold.
There was confusion  over whether or not Alhaji Bamanga Tukur was still the National Chairman of the ruling Peoples Democratic Party (PDP).
One account said he had given his resignation letter to President Goodluck Jonathan, which the President was expected to read to members of the National Caucus, that reconvened at 6 pm at the Presidential Villa. The National Caucus meeting was planned to dovetail into the Board of Trustees, BoT, meeting last night.
One strong indication that the soil had indeed been eroded out of Tukur's feet came when the  weekly Wednesday National Working Committee (NWC) meeting held with the embattled chairman conspicuously absent.
It was rather   was chaired by Deputy National Chairman, Prince Uche Secondus with other members in attendance. The NWC meeting, which took place at the office of the Deputy National Chairman lasted from 2 pm to 4.30 pm when the members drove out immediately to the meeting of the National Caucus at the Presidential Villa.
Those who attended included the National Organising Secretary, Abubakar Mustapha; National Publicity Secretary, Chief Olisa Metuh; National Auditor, Adewole Adeyanju; National Secretary, Professor Wale Oladipo; National Financial Secretary, Elder Bolaji Anani; National Woman Leader, Mrs Kema Chikwe; National Legal Adviser, Victor Kwom; and National Youth leader, Abdullahi MaiBasira.
The situation was made even more confusing by Tukur himself.
As members were waiting for President Jonathan to read Tukur's resignation letter, Tukur chairman made a surprise appearance at the Board of Trustees meeting in Abuja, saying he had not resigned.
Alhaji Tukur, who walked into the Banquet hall of the Presidential villa at about 7:50 PM said he was not the sort of person that would resign in secret.
The PDP chairman, who walked in with former chairman of the party, Prince Vincent Ogbulafor told State House Correspondents that the rumour of his resignation was not true.
'I have not resigned. I am not somebody that would resign and you would not know. I have not resigned,' he said.  curtly before walking into the hall where the meeting of the BOT was to hold.
But a BoT member, who declined to be named, told one of our correspondents that the PDP had already accepted his resignation.
'Yes, it is true that he has resigned and the party has accepted his resignation ,' he said  after the meeting.
According to him, Tukur's resignation will be announced at the  the National Executive Committee of the party that will hold in Abuja Thursday (today).