Body Party Singer, Ciara Maybe Having A Boy!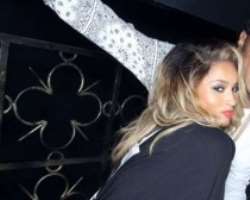 Body Party singer Ciara is pregnant with first her child and it looks like she's having a baby boy with fiancé Future. The singer cleared the air about her rumour baby bump on The View yesterday in New York and later allegedly spilled the gender on Huffington Post Live with Marc Lamont Hill.
The gorgeous-looking mom-to-be seemed positive of her future and made it clear on both TV shows that she doesn't mind bonding with the mothers of Future's kids, finding love and what her maternity style will look like. 'But I want to be a happy one!' she added. 'I still want it to be a fun process, but I want the dress to be perfect, I want the cake to be perfect, I want the food to be perfect. We're both looking forward to it.' She said on The View.
http://www.nigerianbestforum.com/blog/wp-content/uploads/2014/01/g4b.jpg
&
On if she's having a boy or girl, the Speechless crooner, told Marc Lamont Hill, 'I did have a preference before I found out what it was. I had a preference at first and it was different than what I thought, but my fiancé got what he wanted.' [Sidenote: The back and forth teasing between her and Marc Lamont kind of hinted it may be a boy].
Well, TV host/actress Jenny McCarthy immediately took to Twitter to express her joy over Ciara's news, posting, 'Congrats to my girl @ciara so happy for your bun in the oven. ' and shared a pic of them both.
The couple got engaged after dating for one year. Future, 30, surprised his lady with a 15-carat diamond ring while celebrating her birthday.
'If I'm dreaming I don't want to wake up,' she tweeted shortly after the proposal. 'Aaaaaahh!!'
'I don't get into nothing to get out,' he told Hot 97′s Angie Martinez in August about his relationship with Ciara. 'This is the one. I said it before. I said it seven years ago, so for it to come around and happen, it was just meant to be.'