Jim Iyke, Nadia Buari Shine As 'Diary Of Imogen' Premiere Breaks Record‬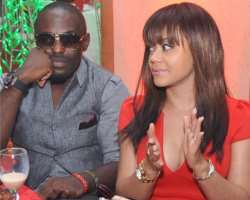 ‪The premier last week of the 'Diary of Imogen', a film by Ghanaian actress, Nadia Buari has broken the records of premiere turn-outs in Ghana. 
‬
‪In an unprecedented three-city screening of the acclaimed film, a true story, 'The Diary of Imogen' is being hailed as the most successful film ever to be premiered at sold out venues in Ghallywood's history. 
The first was a double screening (7-9 pm and 10-12pm) held at the prestigious Accra Conference Centre's 1500 capacity screening room. It was sold out. 
At the second venue,  the "oil city" of Takoradi, Nadia Buari's magic broke the unexplained jinx that has for long plagued many acclaimed productions whose premieres flopped woefully as the viewing public just couldn't be persuaded. A recent case in point is one of Ghana's biggest female film makers Shirley Frimpong who had to cancel her premiere of 'Potomanto' there due to disastrous ticket sales. 
However, for Buari's 'Diary of Imogen, the evil spell couldn't hold people back as her two screenings there sold out. The first was already one-third full before the arrival of Nadia Buari and close friend Jim Iyke who also played the lead role in the film. Their presence instantly gingered-up the crowd that crammed the 1200 capacity Akroma Plaza. 
The third and smallest venue was the Golden Tulip in Kumasi where organisers were overwhelmed by the most vibrant crowd of all. This was where many who attended the first screening at 7-9 pm stayed back for the second at 9-11pm an unheard of occurrence that compelled new arrivals to watch the film on their feet without even complaining. 
The premiere of 'The Diary of Imogen' will now move to Nigeria, Zambia and Canada in no particular order. The film was written, executive produced and directed by Buari, whose mum, Khadija Buari, also co-produced.‬
© 2014 Nollywoodgists.com
Click the link below to go to...
Genevieve Nnaji Delves Into Fashion Again
Salva Kir Runs to T.B. Joshua - Will Putin do the Same?
D'banj and Genevieve officially back as lovers
Femi Adebayo Moves Into New Ibadan Home
'Many Celebrities who donated for my surgery used it as a competition' OJB; reveals few names( must read)