Comedy Skit By Aho 'Headmaster' Omini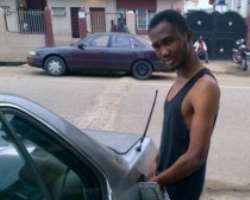 Popular Nigerian comedian, Aho 'Headmastar' Omini, is deador so he appears to be in the new comedy skit which he released recently. Headmastar plays the role of a funny romantic young man, who met his untimely end while chasing a romantic interest.
Aho 'Headmastar' Omini is one of Nigeria's fastest rising comedians in the Nigerian comic industry. He has definitely sunk his teeth deep in the industry and as proof of that, he has in the years past won numerous awards, notable among is City People New Comedian of the year 2011, Redeemer's university comedian of the year and so much more.
Also, Aho 'Heasdmastar' Omini has graced some of the biggest stages in Nigeria as far as entertainment is concerned and such performances are always met with critical acclaims and reviews from the audiences.
Having worked closely with top industry names like Tee-A, Gordons, Klint the Drunk, Bunmi Davies, Gbenga Adeyinka, the first, he definitely garnered the best experience the industry has to offer.
The Cross-River born native describes himself, not as a comedian but a funny storyteller who delivers his jokes with bites of reality check. 'I will die' for you is a precursor to his coming reality series rightly titled 'REALITY CHECK'.
Enjoy the first, in a series of skits to get your ribs cracking for a long time. Watch below.