No going back on transformation of Enugu- Chime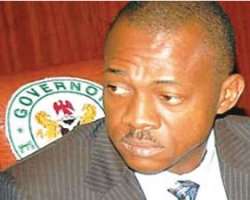 Governor Sullivan Chime of Enugu State has vowed continued commitment to the full implementation of his agenda for the transformation of the state saying he will not allow himself to be distracted while pursuing this objective.
Chime who was speaking yesterday  at a special prayer session held at Government House to mark the new year, said the government will continue to accelerate the pace of development in the state until the "it gets to the finish line" in 2015.
He said "Governance can be likened to a 100-meter race. When you take off, it may be slow, but once you hit your stride you keep accelerating till the end. That is what we are doing in Enugu State. We will continue to accelerate until we get to the finish line".
Going further, he said, "We reiterate our commitment to serve our people with unrelenting dedication and we will not be distracted. It is a privilege to serve and we are not taking it for granted. We also hope to be there to render whatever service those coming after may require of us.
The Governor thanked the people of Enugu State for their continued support and prayers saying that God has continued to show his mercy to the state despite the odds.
In his homily at the occasion the State Chairman of the Enugu State pilgrims Board, Rev. Monsignor John  Nwafor described leadership as a divine call to service which must accounted for.
He urged Nigerian leaders to eschew selfishness and self interest in the discharge of their functions and instead strive to fulfill God's purpose of providing for the welfare of everyone more especially the poor and the needy.
Rev Nwafor also called on leaders to keep their eye on posterity and leave legacies for which they will always be remembered and  admired.
The prayer session was attended by top officials of the both the executive and legislative arms of government as well as civil servants in the state.